Recent Past Reading (Online):
Sunday, February 13, 2022, 3:00 PM to 4:30 PM
Here is the link to the latest SSPS reading, in which Barb read her poem, I'll Be The Bird: https://youtu.be/-kEXaZPZTyQ
Past Readings:
Saturday, November 9, 2019, 3:00 PM to 5:00 PM
Barb was the featured poet in Bellevue, Iowa on November 9, 2019 at The Flatted Fifth from 3-5pm. This reading was sponsored by the Bellevue Arts Council. Poet, Penny North also read.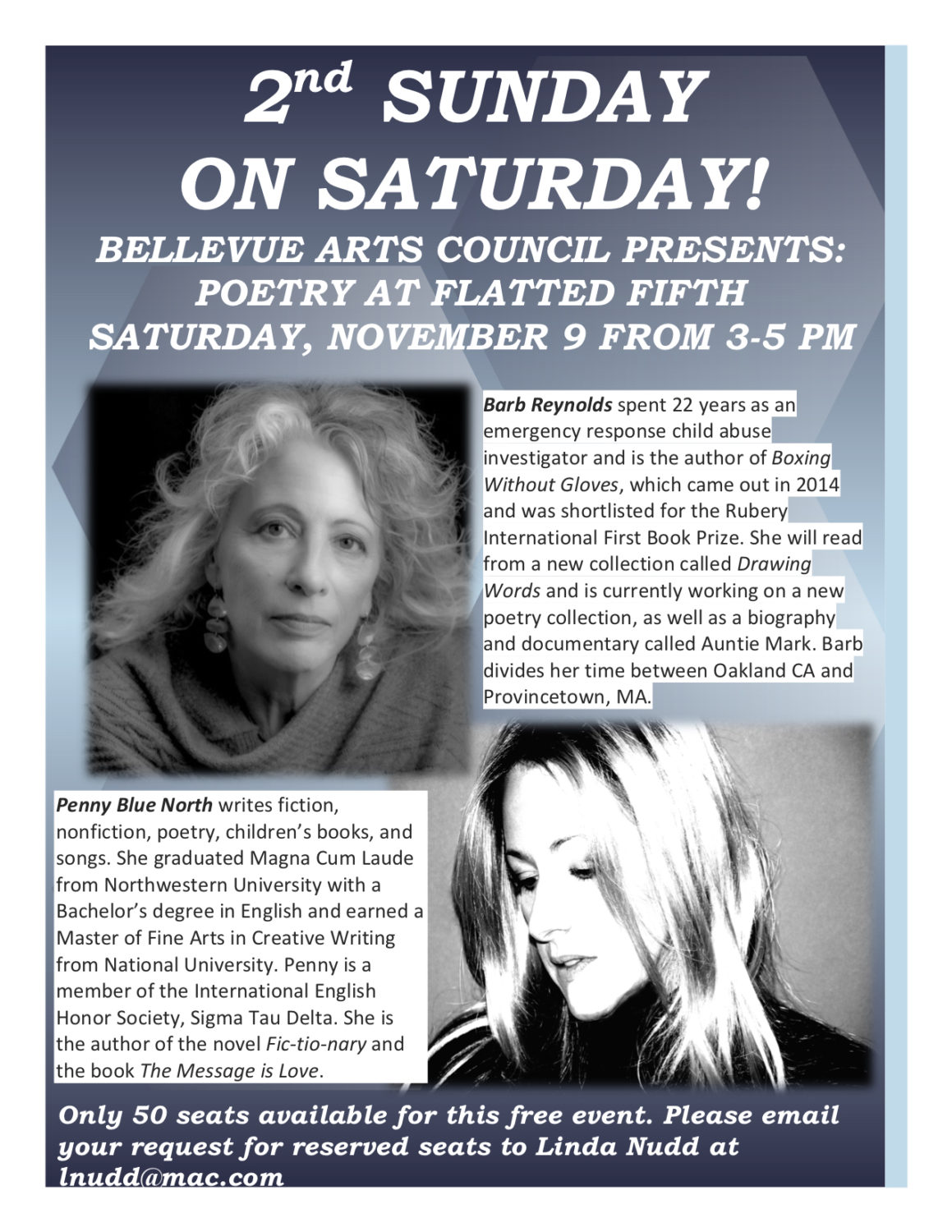 Thursday August 1, 2019, 6:00pm
Berkeley City Library, North Branch
1170 The Alameda
Marin Poetry Center Summer Traveling Show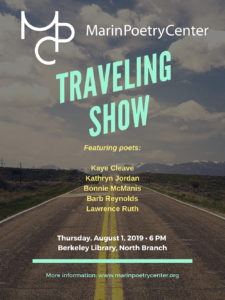 Sunday May 19, 2019
Britt Marie's Restaurant & Wine Bar
Second Sunday Poetry Series
Barb founded and curates this series. This month she read.
Visit Britt-Marie Second Sunday Poetry page.

Thursday September 20th, 7:30pm
Falkirk Cultural Center, San Rafael:
Barb read her poem "A to Z", chosen for inclusion in the
2018 Marin Poetry Center Anthology.
Sunday March 11, 2018
Britt Marie's Restaurant & Wine Bar
Second Sunday Poetry Series, 3:30-5pm, Free Admission
1369 Solano Ave., Berkeley, CA
Phone: 510-527-1314
Barb founded and curates this series, but this month she read with
poets AMANDA MOORE and MERYL NATCHES.
Visit my Britt-Marie Second Sunday Poetry page.
Monday March 5, 2018 at 7pm.
Dogeared Books, 489 Castro St. SF.
Barb will be part of a Quiet Lightning Group Reading.
quietlightning.org
It's free!
"I visit her whenever the pull homeward
overtakes the push of vertigo."
–excerpt from Barb's poem, Wisdom
SAMPLING of PAST READINGS:
Wednesday, October 11th, 2017 from 2-3pm
Ravenwood Inn garden, 462 Commercial St., Provincetown, MA
Barb read from her poetry collections, Once the Thunder Stops,
as well as from Auntie Mark, a work-in-progress.
Sunday, June 11, 2017, 4-5 PM
Britt Marie Wine Bar/Restaurant.
Barb Reynolds, Kathryn Jordan, Penelope Barnes Thompson
http://brittmariesolano.com/
October 12, 2016
Ravenwood Inn, Provincetown, MA. Phone: 508-487-3203
July 21, 2016
Two private readings in Roseville, CA

June 27, 2016
Guest curator for 34th edition of Bay Area Generations at the Berkeley City Club.
April 25, 2016
Berkeley City Club on April 25th for the 32nd Edition of Bay Area Generations Poetry Series.
The event was videotaped and will be up on the Bay Area Generations website.
October 14th, 2015
Barb read from Boxing Without Gloves and Soul on Fire at Ravenwood
462 Commercial St. in PTown, Mass., during Women's Week!
Barb was interviewed & read her poetry, along with 4 other poets, on KPFA Radio. She read during the 11:00pm hour with two other poets for national poetry month on the BAJABA (Bay Area jazz and blues artists) radio show 94.1. If you missed the broadcast, the show will be available for listening and downloading for the NEXT TWO WEEKS only via the website KPFA.ORG. It is the BAJABA show on 4/25/15.
August 24, 2015
Group reading with Bay Area Generations group reading located at BERKELEY CITY CLUB (2315 DURANT AVE., BERKELEY).
June 19th, 2015
Reading with 4 other Finishing Line Press authors at The Subterranean Arthouse in Berkeley, CA.
May 9th, 2015
Potter's Mill in Bellevue, Iowa.
January 24, 2015
Los Angeles, CA
January 25, 2015
Los Angeles, CA