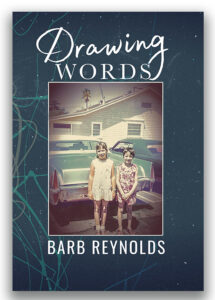 Drawing Words is available through Finishing Line Press.
These poems celebrate the miraculous resilience in the love of two sisters, a bond that allows both young women to survive the nightmare of domestic violence and the trials of adulthood with unwavering grace. To read these poems is to undergo a vicarious baptism into the waters of deep love and commitment, and the comfort of knowing one's true home.
– Alison Luterman, author of In the Times of Great Fires and Desire Zoo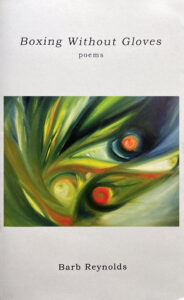 Boxing Without Gloves, Barb Reynolds' first chapbook, is remarkable for its understated and beautiful narratives. I am reminded of Raymond Carver, whose poems became, in and of themselves, metaphors. Barb Reynolds has this grace, this ease, this command of a language full of the concrete, full of things: plastic gnomes, hummingbirds, fists, jasmine, mangoes, and shiny black shoes. That this poet hones in on the physical and the concrete is fitting, because here - from the heart-breaking recollection of a visit to a father in prison to the poem for a lover with skin of "vanilla and ground ginger" - is a speaker who is very aware of the ways in which language fails us: naming the world is an act of survival. These are not easy poems to read because they are about what matters - love, loss, illness, betrayal - which means everything is at stake. We are all, as Barb Reynolds reminds us, finding our way home "in the dark." How lucky we are that we have her poems to carry with us.
Jude Nutter, author of The Curator of Silence and
I Wish I Had a Heart Like Yours, Walt Whitman
Isolation Journal is a quirky blend of ponderings & poetry, political commentary & weird wordplay, by poet Barb Reynolds. In Volume Two, Barb continues her journey in COVID-isolation with her dog Blanca, chronicling these unprecedented and challenging times. Isolation Journal feeds our collective soul with humor & wisdom, common sense & absurdities, sowing seeds of compassion and food for thought.
PRAISE FOR ISOLATION JOURNAL
"Your book is a life jacket. Thank you. Merci, Gracias, Danke, Grazie! Parts of it sound like the rabbit that hops around inside my head, frenetic, needy, hilarious, hip, lonesome but enjoying my solitude, exhausted, inexhaustible. In short, I'm surprised and delighted by the slapstick and the dazzling word choices.
I love your work! I love Isolation Journal." –Pamela Davis
"I LOVE your new book! It captures the angst of the covid quarantine like nothing else.
Hope you can reach a whole lot of people with it. People will really resonate with it." –Barbara Higbie
I've dipped in a few times and each time I'm completely captured.
SO ALIVE. SO FRESH. I'm totally inspired by your writing.
And by your taking this hard, hard time and making it into beauty, revelation, gift. Deep deep bows, Barb." –Kim Rosen
"Thank you for the words you pen, the spirit you give to the world, and the thoughtfulness you exude." –Margaret H. Wagner
"I've only read the days 92-102 and it confirms what I already knew. Barb Reynolds is a brilliant poet.
In the span of a few minutes I smiled, laughed, recognized myself in an expressed sentiment and got choked up.
Thank you." –Sharon Washington
"Starting my second reading of Isolation Journal.
Love it and the lovingly, lovely loving of it all!" –Tammy Hall
"The stream of consciousness effect is quite wonderful. I am enjoying it tremendously." –Whit Schweizer